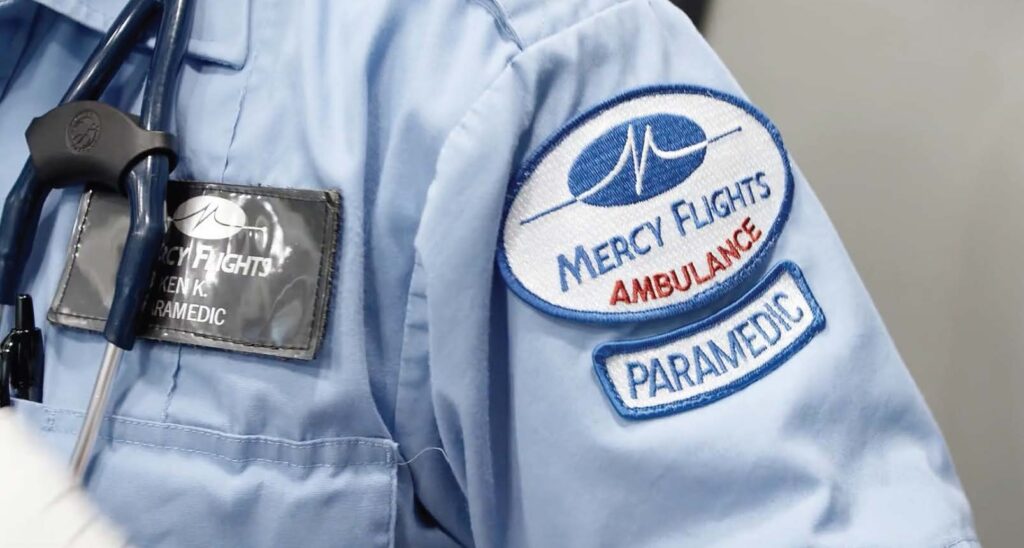 As the state of Oregon faces a significant rise in viral respiratory infections (RSV), influenza and COVID-19, Mercy Flights is partnering with local healthcare providers and first responders to respond to the needs of Southern Oregon residents. With flu season only just beginning, demand for care is increasing rapidly and is expected to peak in mid-December.
"Every component of our regional health system is strained right now, and that includes Mercy Flights' mobile healthcare services," said Mercy Flights CEO, Sheila Clough. "We are currently experiencing higher demand than we've seen over the last year-and-a-half, and we anticipate we're just on the front end of this wave. This high volume of patient needs has a region-wide impact, resulting in longer response times. It's frustrating, but also expected during times like these. The good news is, we are working closely with our trusted hospital and first-responder partners to find creative solutions. It's an important time for innovation, so we're finding more efficient ways of transferring patients from our care into the hands of our hospital colleagues. We're also working closely with our local fire agency partners to increase capacity to respond to 911 calls and transports where possible."
According to Clough, Mercy Flights' Mobile Integrated Healthcare team is also proactively working to reduce the strain on local hospitals and caregivers by bringing healthcare and resources to residents once they've been discharged from hospitals and emergency rooms.
"Our Mobile Integrated Healthcare team does an incredible job minimizing hospital re-admissions and return ER visits," said Clough. "This is work they do every day, but the impact during flu season is even greater as we work with our hospital partners to ensure that resources are available for everyone."
Clough added that employee wellness is also critical at this time. "We know that keeping our own team members healthy and supported improves our ability to serve our community. We continue to encourage our incredible team members to take care of themselves and remain up to date on vaccinations. We're also offering incentive pay and additional Earned Time Off for those who can take on additional shifts.
Amid a national Emergency Medical System staffing crisis, Mercy Flights' HR team is also leading an on-going recruitment effort to maintain and grow staffing levels.
The entire Mercy Flights team is encouraging neighbors to take steps to protect themselves and their families from the effects of influenza, COVID-19, and RSV! We all play an important role in keeping our community well. Here are some important tips from the Oregon Health Authority to help us stay healthy this holiday season.