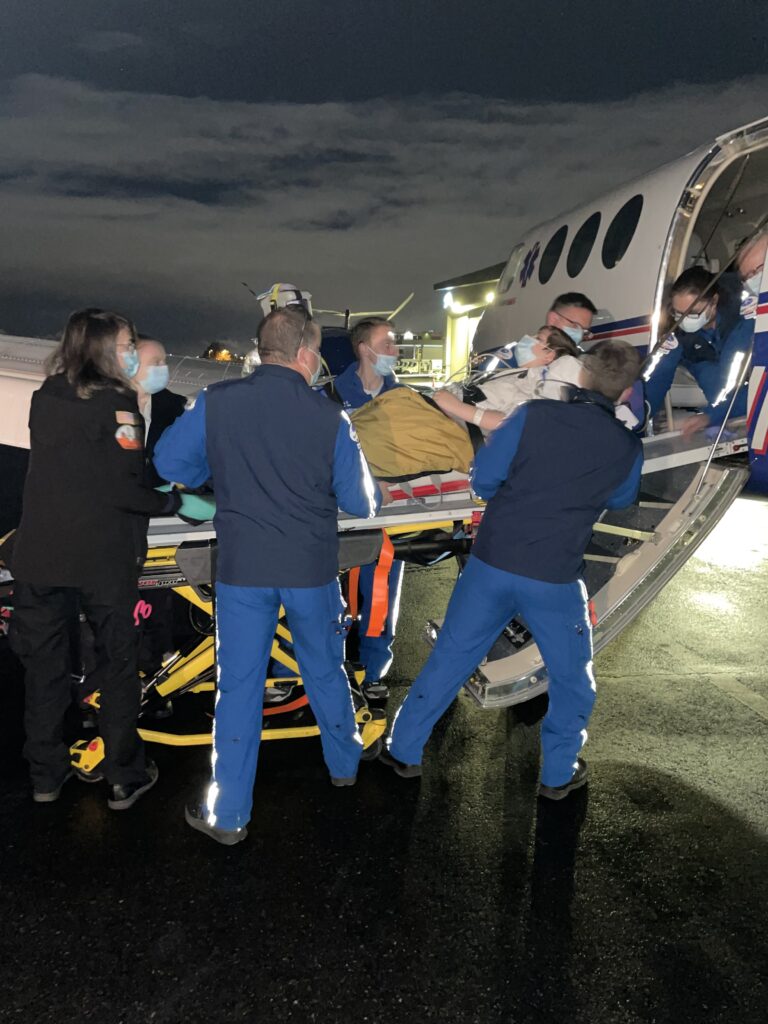 Aiden was a perfectly healthy 12-year-old boy living in Central Point, Oregon when he suffered a brain aneurysm. While brain aneurysms in children are rare, it can cause bleeding into the brain which is a serious condition known as a hemorrhagic stroke.
"It all happened so quickly," said his mom, Sharee Barber. "There were no signs, no headaches, nothing at all. He started vomiting blood, so I called 9-1-1 and a Mercy Flights ambulance came and took him to Rogue Medical Center where they did a CT scan and discovered an aneurysm that had ruptured."
Aiden was airlifted by Mercy Flights to Doernbecher Children's Hospital in Portland, Oregon where they immediately inserted a drain to relieve the pressure on his brain. The next day, Aiden underwent brain surgery to reduce the flow of blood into the aneurysm.
"It was terrifying," said Barber. "But the Mercy Flights team stayed with us, and they were communicating the entire time. They just had everything completely ready to go and they were 100% transparent, letting me know everything that was going to happen. Even the pilot was telling me exactly where we were, and when we were going to arrive in Portland. It was very comforting. The Mercy Flights nurses stayed with Aiden until he was admitted at Doernbecher."
Meanwhile, Aiden's dad (Elvis) and older sister (Abigail) made the stressful 4-hour drive to Portland to be with Aiden and Sharee. It was December 16, 2021 and the family spent the remainder of the month – including Christmas – supporting Aiden through his recovery with help from the Ronald McDonald House. Aiden spent 12 difficult days in the Pediatric Intensive Care Unit, and three more days in a regular hospital room before he was well enough to go home.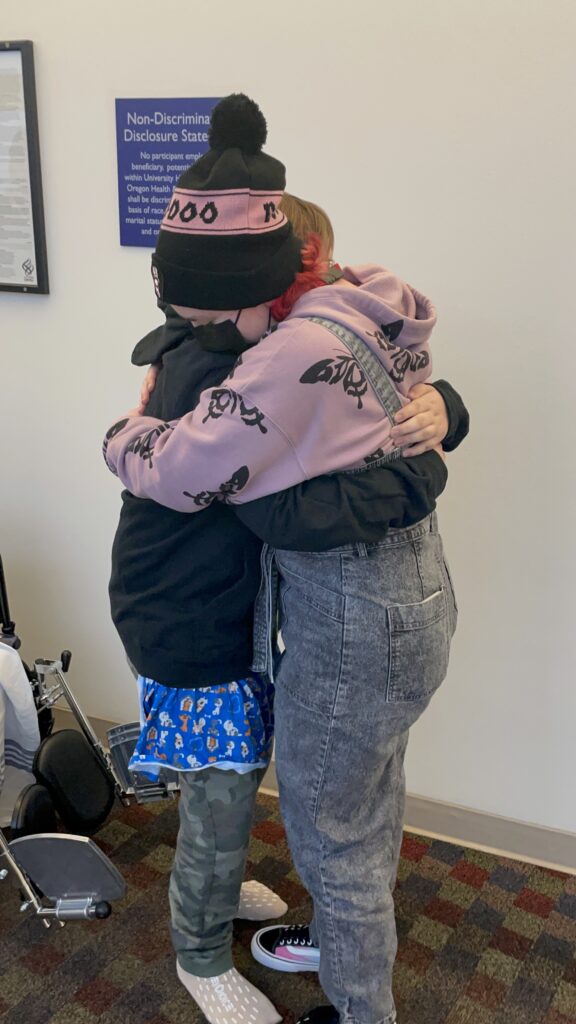 The Barbers, who were not Mercy Flights members when Aiden had his aneurysm, say they are now members for life.
"You know, I think the common misconception is you dial 9-1-1 and an ambulance shows up and everything will be taken care of. Here you are in the most terrifying moment of your life, and you don't think about the astronomical medical bills that come with just keeping your child alive. Plus, two ambulance rides and a medical flight, that can break a family. You're struggling for years, and it never goes away, and you can't take a breath because you're trying to stay afloat financially," said Barber.
"When I found out how much a Mercy Flights membership costs, I literally had to call and ask 'Are you sure? For my whole family?'"
"You just can't predict when things are going to happen. It can be something very simple or it can help save your child's life. Aiden's life was saved."
In 2022, after the Barbers were Mercy Flights members, their daughter, Abby, was transported to Asante Medical Center in Medford by a Mercy Flights ambulance. She had fainted while getting her blood drawn at the lab and her blood pressure dropped. She fully recovered and the ambulance ride was completely covered by their Mercy Flights membership.
Today, at 14, Aiden is doing well.
"We still have a very long road to recovery ahead of us, but looking at him now, you would never know what he's been through. Aiden has a light and zest for life.
"The Mercy Flights nurses who cared for us are like family. Every time an ambulance goes by, Aiden is looking to see if it's Mercy Flights."