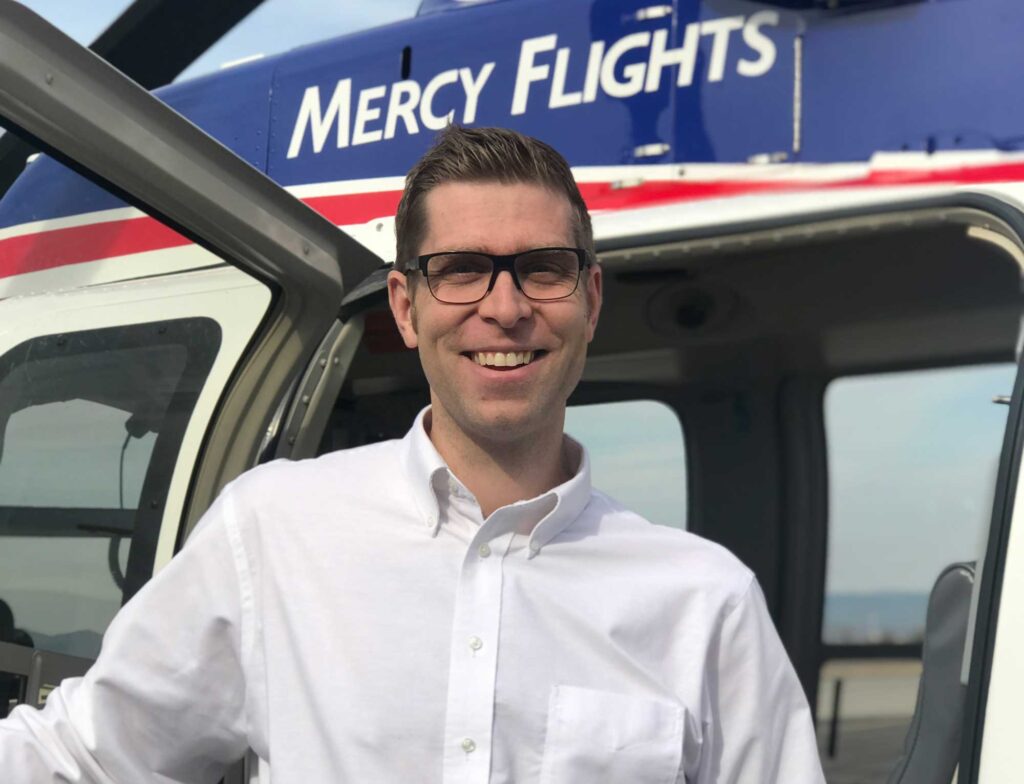 Mercy Flights is proud to announce that our Medical Operations Director, Matt Philbrick, has been recognized by the American Ambulance Association as a rising leader who has made exceptional contributions to the industry. He is one of four individuals in the state to receive AAA's annual 40 Under 40 award, which was announced earlier this year. Honorees are selected based on their contributions to their organization, state ambulance association, AAA, other professional associations, and/or the EMS profession in an extraordinary way beyond faithful completion of job duties.
According to John Becknall, PhD, an emergency services and healthcare expert, thought leader and consultant who nominated Philbrick for the 40 Under 40 award, he is an exemplary leader and represents the future of EMS leadership for a new generation of EMS professionals.
"Matt's ability to positively influence others and successfully lead a large team of professionals is a testimony to his abilities, character, insight, and skill," wrote Becknell. "While Matt has a fine command of EMS operational and clinical excellence, he stands out because of his deep understanding of people, his ability to connect with employees of all ages and inspire them toward extraordinary achievement. Matt's influence extends beyond his organization to participation, speaking, and teaching at state and national conferences."
Mercy Flights' Chief Operations Officer Tim James agrees.
"Matt has an incredible passion for Mercy Flights and the employees that work here.  He's great about thinking outside of the box and thinking ahead," said James. Matt is very deserving of the 40 under 40 award and I'm excited to see where his potential will take him as a leader!"
Philbrick, a California native who has lived in Southern Oregon for over 11 years, started his career as a Paramedic with the desire to help people in need. Today, continues that philosophy as Medical Operations Manager for Mercy Flights, taking care of the people that are taking care of Southern Oregon communities.
"I am honored to be recognized by the AAA and by the person that nominated me, John Becknell," said Philbrick. "To be recognized by someone that I look up to and respect is humbling. Mercy Flights is responsible for the opportunities that I have received.  I have been blessed to have supervisors that encourage my growth, foster my professional development, and give me feedback to help improve my performance.  I have been able to speak at local, state, and national conferences because of these opportunities.  My career has changed for the better because of Mercy Flights."
When asked what he would say to young people considering EMS as a career he responded, "If you have the desire to be a part of something bigger than yourself, and gain personal reward in the service of others, then EMS is right for you".
Philbrick's career in EMS has taken him in several directions including Ski Patrol, Volunteer Firefighting, ground 9-1-1 ambulance care, and critical care flight medicine. As medical operations manager Mercy Flights, he helps plan organic growth for the company, manages a dynamic operation and is heavily involved in Oregon State EMS committees including the State Trauma Advisory Board (STAB) and the Oregon EMS for Children's (EMSC) committees
In his free time, Matt takes great pride in volunteering for local charities. Recently, he placed third in "Dancing with the Rogue Valley Stars", a local ballroom dance competition. Matt and the other 'Stars' raised over $137,000 for a local charity, The Sparrow Clubs. When not at work, he loves camping, hiking, fishing and enjoying time with wife Michelle, and two children ages five and three.
Visit AAA's website for more information about the 40 Under 40 awards.