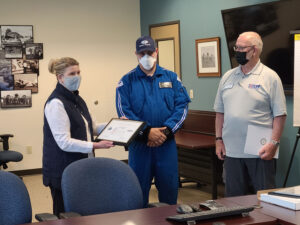 This month, our CEO Sheila Clough, was surprised to receive two military awards presented by the Employer Support of the Guard and Reserve (ESGR). The Patriot Award and the Above and Beyond Award both recognize organizations and individual employers who have gone above and beyond the legal requirements of the Uniformed Services Employment and Reemployment Rights Act by providing their Guard and Reserve employees additional, non-mandated benefits such as differential or full pay to offset lost wages, extended health benefits, and other similar benefits.
"It was an extraordinary honor to receive these awards on behalf of Mercy Flights," said Clough. "We are so proud of our brave and loyal team members who have served and those who continue to serve our country as members of the US military."
The award nominations were submitted by Mercy Flights flight team paramedic Matthew Cruz, who began his military career with the United States Marine Corps in 1997 where he served as a combat engineer for eight years. He was deployed to Iraq in 2002-2003 and completed his service in 2005. In 2010, Cruz re-enlisted after 5 years as a combat medic and deployed again to Iraq in 2017 as a medevac flight medic. He has served the Local Army National guard unit in Medford and is currently in Medcom based out of Salem. Cruz has been with Mercy Flights since 2013.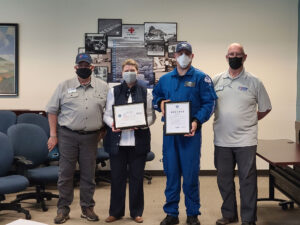 "I nominated Sheila because of her rapid changes to the infrastructure and the current things that allow for the placement of the American flag on the property," said Cruz. Sheila is active in changing things to further employee retention while providing support for military members both active and retired."
Cruz says he hopes that Mercy Flights can continue the support and care to those that show the highest level of selflessness and dedication to the company and those military members, both current and former.
"We have quite a few employees that served in some capacity or are still serving. If the company continues down this current path perhaps Mercy Flights will earn the National recognition award and attend the ceremony in DC," said Cruz.