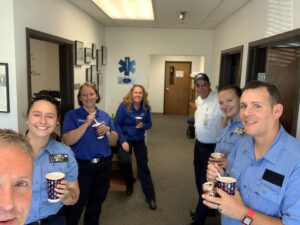 When the recent wildfires first began encroaching on Southern Oregon communities, the Mercy Flights team didn't wait for evacuation orders to take action. Before local residents were forced from their homes and before hospitals were facing the critical need to move patients, the non-profit air and ground ambulance organization initiated an incident command center and deployed crews to stand ready if the region's most vulnerable residents needed medical care and transport. When evacuation orders were launched, Mercy Flights team members sprang into action, responding to a record number of calls and transports for the organization's 70-year history.
"It's been remarkable to watch this incredibly skilled and dedicated team in action," said Mercy Flights Chief Executive Officer, Sheila Clough. Clough came to Mercy Flights in June from Asante Ashland Community Hospital where she had served as CEO for 6 years. "Having worked with Mercy Flights on the other side as a hospital partner, I had a strong sense of the value this organization brings to our communities. Experiencing this expertise and commitment first-hand and behind-the-scenes was extraordinary."
According to Tim James, Mercy Flights Chief Operations Office, Mercy Flights plays a critical role during fire emergencies, leading the region's medical evacuation and Emergency Medical care and transport response efforts so local fire fighters can focus their expertise and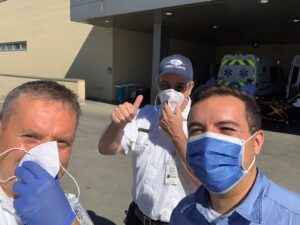 resources on the front lines battling the fires.
"Crisis response is what we do and what we're trained for, but it's always impressive to see our crews take their work to an even higher level," said James. "They went above and beyond the call of duty during the recent fires, stepping in to make critical, split-second decisions to protect the immediate safety of our neighbors and communities."
James shared the story of paramedic, Joe Coy, who was reporting for duty at Mercy Flights' headquarters on September 9 when he noticed black smoke in the air near I5 and Table Rock Road. Instead of clocking in, he turned his car around and drove towards the smoke that was coming from a new, quickly raging fire. He pulled into a mobile home park that was in the fire path and started banging on doors, warning most of the park's residents before a Central Point police officer arrived.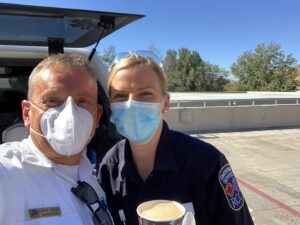 "That's just one of so many stories from our team that have inspired and awed us," said James who explained that entire senior residential facilities needed evacuation support and coordination. "This level of coordination was outside of our general scope, but our team made it happen without missing a beat."
Like many of the region's first-responders, several of the Mercy Flights employees were also facing evacuation from their own homes while working to keep their communities safe. One employee lost his home to the fires and continued reporting for duty.
"We were struck by the selflessness of our team members, not only for the ways in which they served our neighbors while facing their own hardships, but for the ways in which they stepped up to support each other as well," said Clough. "We really saw the best of our people during the worst of times."
One medic captured a video of a bear crossing in front of his ambulance and later used it to calm an anxious child whose family was being evacuated. The child's mother told the crew, "This means you're in the right place at the right time," wh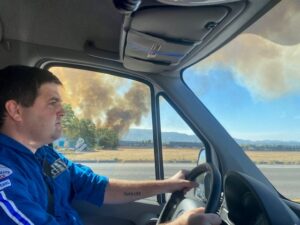 ich is a quote from a familiar headline on one of Mercy Flights' membership ads. The crew later shared that this encounter lifted their spirits when they were feeling down and exhausted.
"It really was an all-hands-on-deck situation and we couldn't be prouder or more grateful to this amazing team. From the crews out in the field to the staff in our communication and administrative centers, everyone played a huge part in supporting our communities and each other," said Clough.
James said the crews have been participating in a formal After Action Review to identify what went well and explore future enhancements to the team's crisis response. Informally, the teams have also been gathering in small groups to share their experiences, debrief and continue to look for ways to support each other and the surrounding communities during the recovery efforts.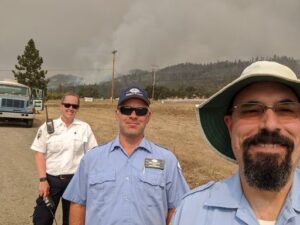 "It's always incredibly powerful to be serving my own neighbors, friends and families, but it feels especially humbling during a crisis," said Mercy Flights paramedic Scott Darland.  "Mercy Flights is a local organization with a nonprofit mission and deep roots here in Southern Oregon. I'm really honored to be a part of that 70-year legacy of caring for our communities."