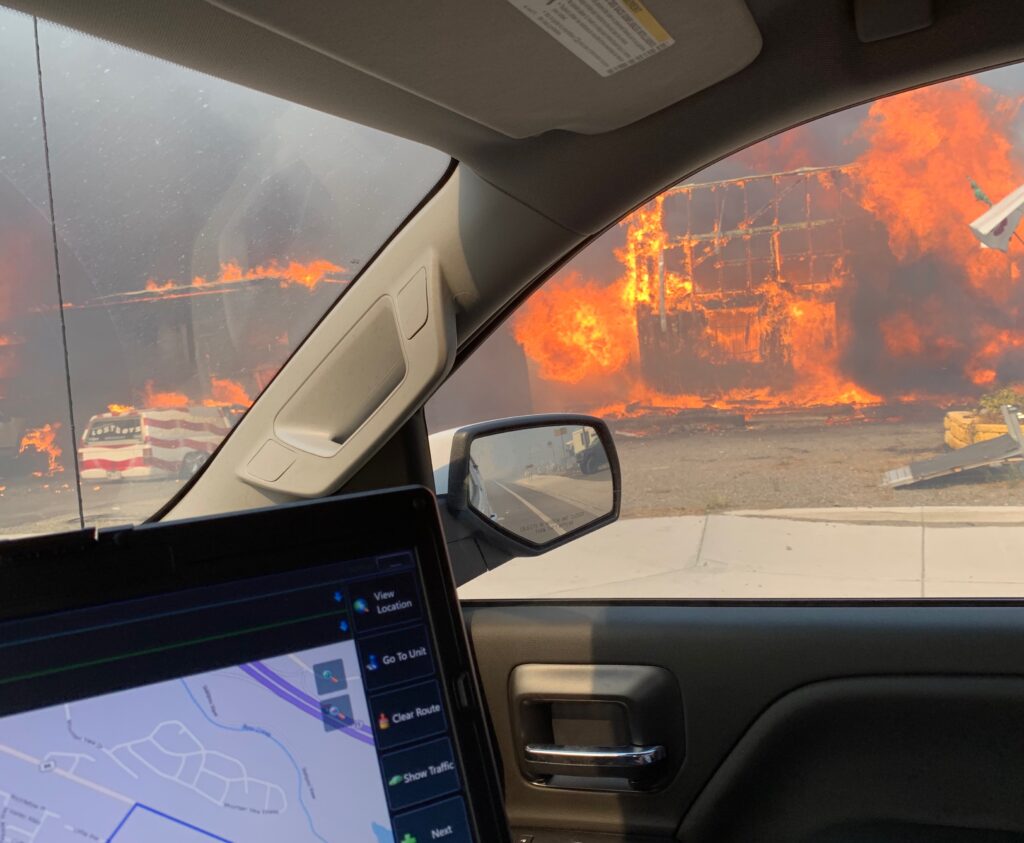 Mercy Flights crews have been working through the night to evacuate hospital patients and other vulnerable Southern Oregon residents as wildfires continue to sweep through the Rogue Valley. Working in partnership with Jackson County Emergency Management and local hospitals and fire departments, Mercy Flights continues to play a key role in this rapidly evolving emergency.
According to Mercy Flights Chief Operations Officer Tim James, Mercy Flights had been monitoring and planning for possible evacuations since the fires began. Early Tuesday, September 8, Mercy Flights leadership activated their incident command center and began deploying vehicles and crews to stand ready if needed. At approximately 1 pm, all Mercy Flights crews were fully deployed to support the evacuation of local residents from hospitals and other vulnerable neighbors, including the elderly and those with serious health risks.
"Our teams have been working tirelessly over the past 18 hours to provide medical care, evacuation and transportation to our most vulnerable neighbors and we anticipate these efforts to continue for at least the next 12 hours and likely longer," said James. "Like many first responders throughout the valley, our team members have been personally affected by the fires, including evacuations of their homes and the homes of their loved ones."
On Tuesday, September 8, Mercy Flights ambulance teams responded to more than 90 calls, a record for the organization in its 70 year history, said Mercy Flights Chief Executive Officer Sheila Clough.
"Our teams continue to be fully dedicated to serving our communities, despite the impact of the fires on each of them personally," said Clough who added that at least 10 employees have faced evacuation and a few have also lost their homes. "They are so committed to this work and the people we serve and as local residents who love our communities, we're all sharing in the grief."
With the wildfires only partially contained and continued high winds in the forecast, Mercy Flights expects to continue operating with all hands on deck said James.
"We are proud of our local fire department teams for their incredible dedication and skill during this crisis. This is when our partnerships matter most and we are honored to be supporting local medical care and transport needs so they can focus on the critical firefighting work they do so incredibly well," said James.