Mercy Flights, Jackson County, OHA and FEMA work together to slow spread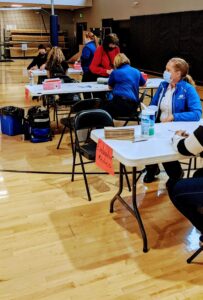 Efforts to get COVID-19 vaccines into the arms of Southern Oregon residents are on a fast track thanks to a unique partnership between local healthcare providers and state and federal officials. Thanks to a team of experts from FEMA; the Oregon Health Authority and state Office of Emergency Management; Jackson County's Emergency Management and Health and Human Services departments; and Mercy Flights, Southern Oregonians now have more options for getting COVID-19 vaccines.
Community Vaccination Center
Earlier this month, FEMA selected Jackson County as the first Oregon site for a Pilot Community Vaccination Center (CVC). The CVC, located at the Jackson County Expo in Central Point, began on April 21, bringing an additional 1,000 vaccine doses per day to support Jackson, Klamath, and Josephine counties, an area of the state that was hard hit during last year's historic wildfire season. The Jackson County CVC is one of 500 nationwide in FEMA's push to collaborate with state agencies and expand vaccination capabilities. Health care professionals staffing the vaccination center include team members from Mercy Flights and Jackson County Health & Human Services.
"We are committed to making sure everyone who wants a vaccine can get one," said FEMA Region 10 acting administrator Vincent J. Maykovich, who added that the COVID-19 pandemic has been especially hard for Southern Oregon communities that also suffered from historic wildfires. "We are excited to partner to provide equitable access to the vaccine."
Vaccinations at the Jackson County CVC are free and available to all. There are no requirements for photo ID, proof of residency or insurance coverage. Those interested can call 2-1-1 for information in English or Spanish. Registration is also available on-site, where masks and social distancing are required.
The center is open from 7 a.m. to 2 p.m. on Wednesday and Thursday, and from noon to 7 p.m. Friday through Tuesday.
The Expo site will also include a drive-through option with the Pfizer vaccine and a walk-up option with the Moderna vaccine.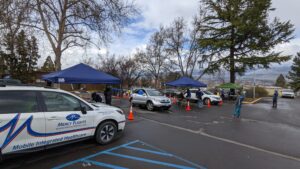 Mobile Vaccination Clinics
To reach some of the region's most vulnerable populations that may have challenges getting to established vaccination sites, the local, state and federal agencies have also partnered to establish mobile vaccination clinics that are bringing the vaccines to neighbors in congregate living spaces such as group homes, foster homes, nursing homes as well as to schools. The mobile teams are also traveling with teams of trained vaccinators to reach migrant workers and homeless residents.
"Individually, our teams do incredible work, but our combined expertise, resources and shared vision for a healthier Southern Oregon region has helped us bring some innovative solutions to our neighbors," said Mercy Flights CEO Sheila Clough. "It's all hands on deck for our Mercy Flights team as we expand our pool of trained vaccinators to serve our communities."
Mobile vaccination locations and hours will be available and updated on the county's website.