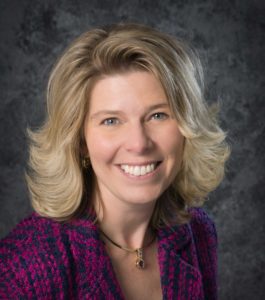 The Mercy Flights Inc. board of directors announced today that Sheila Clough has been appointed to serve as Mercy Flights' new Chief Executive Officer effective June 29, 2020. Clough, currently the CEO for Asante Ashland Community Hospital, brings more than 28 years of healthcare leadership experience to the MFI team — including 17 years at the executive level.
"We are excited to add Sheila's extensive public health and executive leadership experience to our high-performing medical transport program," said Mercy Flights Board Chair Mark DiRienzo. "Her in-depth understanding of public health and hospital systems, combined with our current leadership and expertise, will allow us to have a greater impact on total health for the communities we serve in Southern Oregon and Northern California."
According to DiRienzo, the transition has intentionally been scheduled for summer to ensure that both Asante and Mercy Flights remain focused on COVID-19 response. Meantime, Mike Burrill Jr. will continue in the role of interim CEO.
"We are working closely with our partners at Asante to ensure a smooth transition during these challenging times," said Burrill.
Clough, a respected health care leader and active member of the Southern Oregon community, said she has long been inspired by Mercy Flights' rich history, legacy and community roots.
"I feel a strong connection to Mercy Flights' mission and commitment as a non-profit organization to serve the community first and foremost. I'm also impressed with the skilled team and company culture that has contributed to the organization's strength and stability," said Clough.
In 2013, Clough and her family relocated to Southern Oregon from Woodruff, Wisconsin, where she served as President and CEO for Howard Young Health Care, a regional affiliate of  the $2 billion Ministry Health Care system. She has held the position of CEO for Asante Ashland for the past seven years.
Mercy Flights' Chief Operating Officer, Tim James, will continue to lead operations with 32 years of expertise in Emergency Medical Services including extensive background as an EMS industry leader, clinician and innovator. Chief Financial Officer, Renee Schroyer, will continue to lead the organization's financial strength, stability and growth with 25 years of healthcare finance and administration expertise.
"Combining a local, seasoned CEO alongside our existing, high-performing executive team represented a once-in-a-lifetime opportunity. We believe that this team, with the continued excellence of our entire Mercy Flights crew, will build upon George Milligan's original vision for our regional communities," said DiRienzo.